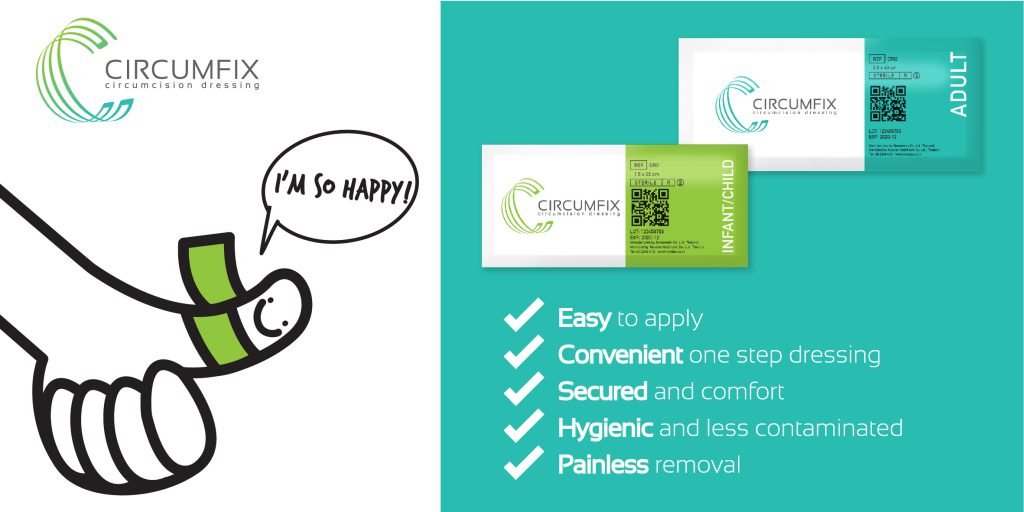 A sterile dressing for circumcision. It is simple, hygienic and one step dressing, composed of 3 parts: low- adherent part, retention dressing, and adhesive tape. It provides easy application and low-adherent removal.
1. Description
CIRCUMFIX® is a ready-made sterile dressing for male circumcision. It is composed of 3 parts. The first part which contacted to the wound is a stretch retention dressing coated with low-adherent substance to minimize pain during undressing. The middle part is high stretch retention dressing which provides suitable compression and absorb exudate. The last part, adhesive tape, helps to fix itself for convenient use. 
2. How to Apply
Clean the wound area as per standard protocol.
Open pouch and pull CIRCUMFIX® out of the tray.
Remove the cover from the low-adherent part.
Gently, cover the wound with low-adherent part, then stretch and wrap the remainder of dressing around the wound area, with appropriate tension, until meet the adhesive tape.
Remove the backing of adhesive tape, then stick it with the wrapped dressing.
CIRCUMFIX® should be changed daily in order to monitor wound characteristics.
A: หากพบว่าเกิดอาการ บวม แดง ร้อนบริเวณแผลหรือปวดแผลมากขึ้นให้หยุดใช้ทันที และไปพบแพทย์ + มีไข้, เลือดไหลไม่หยุด แผลส่งกลิ่นไม่พึงประสงค์
A: เนื่องจาก ควรเปลี่ยนทุกวันเพื่อสังเกตดูลักษณะของแผล หรือตามคำแนะนำของแพทย์
A: การติดแผลอาจใช้วิธีการนำน้ำเกลือสำหรับล้างแผลมาราด บนวัสดุปิดแผลให้ชุ่มจึงค่อยแกะออก
A: เซอร์คัมฟิกซ์ สามารถใช้ได้โดยผู้เชี่ยวชาญทางการแพทย์และบุคคลธรรมดา โดยบุคคลธรรมดา ควรได้รับคำแนะนำการใช้งานจากบุคลากรทางการแพทย์ แต่ ห้ามใช้ เซอร์คัมฟิกซ์ กับผู้ที่เคยมีประวัติการแพ้การแพ้ต่อ ปิโตรลาทัม แฟตตี้แอลกอฮอล์ หรือสารประกอบใดๆในผลิตภัณฑ์
A: ห้ามใช้ เซอร์คัมฟิกซ์ ซ้ำเด็ดขาด
A: เซอร์คัมฟิกซ์ เป็นวัสดุปิดแผลแบบปราศจากเชื้อ วัสดุปิดแผลจะสิ้นสภาพปราศจากเชื้อ เมื่อบรรจุภัณฑ์ถูกเปิดหรือฉีกขาด จึงห้ามใช้ เซอร์คัมฟิกซ์ หากซองบรรจุภัณฑ์ขาด รั่ว หรือฉีกขาดก่อนเปิดใช้งาน
A: แรงรัดที่จะต้องพยุงให้อยู่กับแผล ไม่หลุดตลอดการใช้งาน แต่ต้องให้เลือดสามารถผ่านไปยังส่วนปลายได้สะดวก โดยดูจากส่วนปลายไม่มีสีเขียวคล้ำ